(Last Updated On: October 6, 2021)
Florence Nightingale (1820-1910) was a famous figure in the Victorian Era with her versatile kindness, caring, contribution facts, and inspiration. The whole world is greatly indebted to Florence Nightingale for her contributory facts in the nursing field as the pioneer of modern nursing, as well as many valuable reformations in the area of nursing.
Florence Nightingale facts
In this article, I am going to share some of the Florence Nightingale interesting facts in comprehensive language:
1. Birth
The birth of Florence Nightingale took place on Friday, 12th May 1820 in Florence, Tuscany, Italy.
2. Parents
The Father of Florence Nightingale was William Edward Nightingale, (1794–1874) and mother was Mary née Evans, later she was named Frances ("Fanny") or Nightingale née Smith (1788–1880)
3. Riches
She was born in a rich British family in the aristocratic house named Villa Colombia. Because of her inheritance of a well to do father, she passed a rich childhood with care, education, and security.
4. Name
The first name of Florence Nightingale came from the city name (Florence) where she was born, and the last name was inherited from her father (Nightingale), it's one of the interesting facts.
5. Social Challenges
From childhood, Florence was passionate to help people and dedicate her life to humankind. She has a dream to serve the sick and poor.
However, this was not easy for her because her parents, especially mothers, wanted her to earn social status.
6. Education
During that time, women's education was not that much encouraged. Yet, Florence was lucky that her father was an advanced minded person and inspired her in education, history, Italian, German, French, classical literature, mathematics, language, data analysis, and philosophy.
7. Sister
Florence's elder sister Parthenope Nightingale was Frances Parthenope and interestingly, she was also named after the place where she had born Parthenope, which was a Greek settlement and now a part of the city of Naples.
8. Meritorious
Florence was very meritorious since childhood and had a huge interest in reading and learning academic affairs, including data analysis and critical reasoning.
9. Introvert
Florence was an introverted girl since childhood. She didn't love to mix so many people and didn't love to be the center of attention of all.
10. Multilingual
Nightingale was fluent in English, French, German, and Italian, as well as in Latin and Greek language. She was apt in philosophy to mathematics and even Shakespearean as well as other victorian literature. These manifold interests and skills turned her into a versatile and deep thinker.
11. Reformation of healthcare
Nightingale worked a lot to reform healthcare in order to enhance the care and safety of the patients during the 19th and 20th centuries.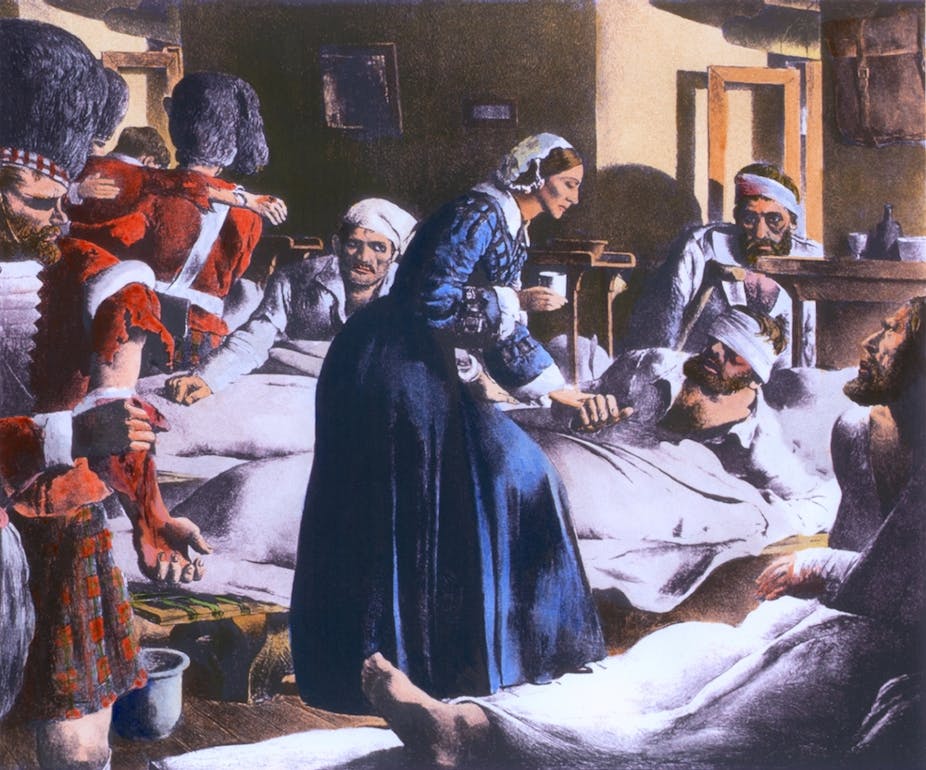 12. Contribution
Nightingale contributed a lot to contemporary and future nurses so that they can be professionally educated in the area of healthcare, medicine, and nursing. She established St. Thomas' Hospital and the Nightingale Training School in 1860, especially for Nurses.
In the year 1859 Nightingale published Notes on Hospitals, a complete guideline to properly run civilian hospitals successfully.
During the U.S. During The Civil War, Nightingale regularly advised valuable suggestions about how to best manage field hospitals to recover wounds at a higher rate.
Among the Asian countries, Nightingale also served as a decision-maker on public sanitation affairs in India for both the army and civilians. She never came to India though.
13. Philanthropy
Nightingale is famous and exemplary for her dedication and philanthropic mindset. She was caring and soft for the help of ill and poor people from her childhood. She had kind administrative mastery and governing for the nearby village civilians in her father's estates.
The Florence Nightingale Museum is placed at the site of the original place of Nightingale Training School for Nurses, with its more than 2,000 artifacts that remember the life, career, learning, case studies, and inspiration of Nightingale for others.
14. Passion
Her passion was to involve herself for the humankind out of divine objective by the form of nursing. She believed nursing is one of the best areas to help and support the ill, distressed, and sick. During her age of 16, she strongly decided to be a nurse.
14. Nursing Student
Despite her parents' denial, Nightingale enrolled as a nursing student in the renowned Lutheran Hospital of Pastor Fliedner in Kaiserwerth, Germany in order to learn a professional degree of caring for the wounded.
15. Out of Victorian Box
At the time of the Victorian Age when the girls were fated only to marry a man of means to climb the social status, Nightingale thought out of the box to convince her parents, who did not like Nightingale's intention.
16. Refusal of Marriage
At the age of 17, Nightingale declined a marriage proposal from an eligible gentleman named Richard Monckton Milnes.
She thought serving mankind was her more important role to play in lieu of getting married and thinking only for herself and the family.
17. Nursing career
Nightingale completed her education in nursing and returned to London from Germany. She joined Middlesex hospital for ailing governesses as her first career. With her perseverance, dedication, and care, she could impress her employer and be promoted sequentially.
18. Value addition
In the health and nursing sector, Nightingale analyzed that hygiene was one of the major areas that cause more and more loss.
Therefore she concentrated to improve the clinical hygiene for the wounds. Her hygiene attempts also played a positive role for herself when she was fighting death.
19. Experience in War
Nightingale earned massive experience to witness the Crimean War that began in 1853 between Russia and Britain and served the wounded soldiers. Experiencing such a big incidence of history was great learning for Nightingale.
20. Challenges in the Career
Crimean War rendered a great challenge and learning for Nightingale. By 1854, more than 18,000 soldiers admitted into military hospitals. At that time there was no female nurse available in the Crimea.
In 1854, Nightingale received orders to arrange a convoy of nurses for Crimea, because the situation, as well as the number of the wounded soldiers, was critical day by day. Nightingale arranged a team of 34 nurses for serving the wounded soldiers in Crimean hospitals.
21. Quick Respond with leadership
The Hospitals were in a dire state with so many wounded soldiers and the absence of basic stuff, bandages, medicine, and more importantly lack of hygiene.
Nightingale observed the patients were getting worse because of the hygiene and infection. It was Nightingale who applied her sense and learned to disinfect the entire hospital building and the patents with all-out effort. She has sleepless nights and working days caring for the wounds.
By her active involvement, the death toll in hospitals significantly decreased to two thirds in a short time. For her dedication, initiative, and care, wounds used to call her The Lady With the Lamp, or "the Angel of the Crimea."
22. Nightingale Jewel and recognition
After successfully completing her mission in Scutari, and upon return to her childhood home at Lea Hurst, the Queen officially rewarded Nightingale's work by presenting her with a rare and valuable engraved brooch named "Nightingale Jewel".
It was really a great royal honor for her recognition. Moreover, she was granted a prize of $250,000 from the British government.
When she was 88 in 1908, Nightingale was awarded the merit of honor by King Edward himself for her lifetime contribution and help.
Nightingale also received a congratulatory message from King George on her 90th birthday in 1910 as one of her life's remarkable achievements. Above all, Nightingale was loved by numerous common people, patients, and nurses.
23. Nightingale Rose Diagram
Nightingale's one of the great contributions was to decrease the mortality rate of the wounds. A Royal Commission in the Health of the Army was established by Queen Victoria with great support from Nightingale.
It was found 16,000 of the 18,000 deaths of soldiers were from preventable diseases—not a battle.
Nightingale depicted this comprehensible "Nightingale Rose Diagram," to show how the Sanitary Commission's work greatly decreased the death rate.
The finding was sensational to all and Nightingale became the first female member of the Royal Statistical Society. She was acclaimed as one of the honorary members of the American Statistical Association for her prudence in statics.
24. Best Use of Personal Money
Nightingale expended her money not for her own interest, rather for the help of people and wounded.
She took initiative to establish St. Thomas' Hospital in 1860, and within it, the Nightingale Training School for Nurses was also founded for the sake of producing more and more educated nurses for the future.
25. Love and admire from common people
People were greatly indebted to Nightingale for her selflessness and dedication. She gradually turned into a popular public figure of admiration, inspiration, and appreciation. Many poems, songs, lyrics, articles, interviews, and plays were written and dedicated to Nightingale's honor.
Many girls were inspired to be like her. Girls and women from even rich societies frequently enrolled in nursing. In fact, Nightingale turned nursing as an honorable profession for all.
26. Achilles Heel
Dedicated, fearless, restless Nightingale had contracted "Crimean fever" while she was serving for the wound at Scutari, and could never be fully recovered from her illness. Gradually this was damaging her immunity.
At the age of only 38, this angel of Heaven turned bedridden. Yet, she was on his goal by helping the ill by working from her bed. She attended visitors, noblemen, politicians, and authority to provide her valuable mentorship, recommendation, and interviews.
27. The Lady With the Lamp
Florence was named The Lady With the Lamp for her dedication, selflessness, and care for the sick people as a nurse. She gained further experience and expertise for her nursing duty during the Crimean War. She learned about sanitation, arranged several patient services, the arrangement of dietary requirements for the patients, laundry for cleanliness, and psychological center inside the hospitals.
From her experience in hospitals, she wrote in 1857, Notes on Matters Affecting the Health, Efficiency and Hospital Administration of the British Army, which was an 830 analysis report with a recommendation to reform the War Office's administrative department, as well as establishing a Royal Commission for the Health of the Army.
28. The Death of the Legend
On Saturday, August 13, 1910, at her home in London at the age of 90. As per her last wish, her family declined to have the national funeral and when with a modest and quiet funeral in a somber manner.
The "Lady with the Lamp" is laid to rest in peace in her homeland, Hampshire, England.
I hope this article on Florence Nightingale's facts was worth reading.
More Interesting Articles