(Last Updated On: October 6, 2023)
In a momentous turn of events, Narges Safie Mohammadi, an Iranian human rights activist, has been bestowed with the prestigious 2023 Nobel Peace Prize, a recognition of her unwavering commitment "for her fight against the oppression of women in Iran and her fight to promote human rights and freedom for all". This extraordinary accolade serves as a testament to her enduring dedication to the cause of justice and equality, resonating not only within her homeland but also across the global stage. This article will share some of her interesting facts, achievements, and bio. Keep reading.
Narges Mohammadi's "White Torture: Inside Iran's Prisons for Women" is more than a book; it is an impassioned testament to the resilience of the human spirit and the enduring power of literature to effect change. Through her captivating prose and unflinching gaze into the darkest corners of oppression, Mohammadi solidifies her status as a Nobel laureate and a champion of human rights. Her collaboration with OneWorld Publications elevates the discourse surrounding the plight of incarcerated women in Iran and underscores the vital role that conscientious publishers play in the dissemination of vital narratives that challenge the status quo.
Narges Mohammadi Interesting Facts, Biography
Narges Safie Mohammadi's receipt of the 2023 Nobel Peace Prize is a testament to her indomitable spirit, her multifaceted contributions to the realm of human rights, and her unwavering dedication to the advancement of justice and freedom. Her life's work stands as an inspiration to all, emphasizing the importance of perseverance in the face of formidable obstacles and the ceaseless pursuit of a more just and equitable world. Explore some of the interesting, fun facts about Narges Mohammadi:
1. A Nobel Laureate Behind Bars: The 2023 Nobel Peace Prize
The crowning moment of Narges Safie Mohammadi's illustrious journey came in the year 2023 when, astonishingly, she was still incarcerated. It was in this context that she received the Nobel Peace Prize, an honor bestowed upon her "for her fight against the oppression of women in Iran and her fight to promote human rights and freedom for all." This remarkable recognition not only acknowledges her personal sacrifices but also serves as a powerful reminder of the enduring struggle for human rights and the unyielding spirit of those who champion the cause, even in the face of adversity.
2. Birth and background
Born on the 21st of April in 1972 in the city of Zanjan, Iran, Narges Safie Mohammadi's journey toward becoming a symbol of human rights activism began early in her life. She hails from a nation rich in history and culture, where her persistent efforts to challenge the status quo have made her a beacon of hope for countless individuals, particularly women, who have long endured discrimination and injustice. Mohammadi's Iranian nationality has provided her with a unique perspective and a deep understanding of the complex challenges faced by her compatriots.
3. A Glimpse into Narges Mohammadi's Humble Beginnings
Narges Mohammadi, the renowned Nobel laureate, was born into a world of humble beginnings in the charming city of Zanjan, Iran. Her early years were a tapestry woven with the threads of familial warmth and the alluring fragrance of blooming roses that graced her family's garden. As she traversed the formative years of her life, it was within the cocoon of her family that she imbibed the invaluable virtues of resilience and unwavering determination. These virtues, deeply rooted in her character, were the legacy of her parents, who toiled tirelessly to ensure that she received an education that would eventually mold her destiny.
Narges Mohammadi's childhood was not one of opulence, but rather, it was enriched by the love and unwavering support of her parents. It was in this nurturing environment that the seeds of her future activism were sown, as she witnessed firsthand the unyielding spirit of her family. Her parents, who served as the unshakable pillars of her life, not only facilitated her academic pursuits but also instilled in her a profound sense of justice that would come to define her life's work.
4. Early Life and Education
Nasrin Sotoudeh Mohammadi, a prominent Iranian human rights activist, was born in the picturesque city of Zanjan. Her formative years, however, were marked by a diverse upbringing as she grew up in various regions, including Qorveh in Kurdistan, Karaj, and Oshnaviyeh. This geographical diversity provided her with a multifaceted perspective on Iranian society. Her educational journey led her to Imam Khomeini International University, where she delved into the world of physics and eventually obtained a degree. This academic foundation would later serve as a backdrop for her tireless activism.
Throughout her university years, Nasrin Mohammadi demonstrated her unwavering commitment to advocating for women's rights. Her passion found expression in the form of thought-provoking articles published in the student newspaper, where she fearlessly championed the cause of gender equality. However, her dedication came at a cost, as she found herself in the crosshairs of the authorities. Notably, she was apprehended not once but twice while attending meetings of the political student group known as Tashakkol Daaneshjuyi Roshangaraan, which translates to the "Enlightened Student Group." This early engagement with political activism set the stage for her future endeavors.
Adding a layer of complexity to her personality, Nasrin Mohammadi was not merely confined to the realms of politics and activism. She harbored a passion for mountain climbing, a pursuit that exemplified her adventurous spirit. Yet, the confluence of her political activities and her love for the mountains led to a rather unfortunate turn of events. Her political engagement eventually prompted authorities to impose a ban on her participation in climbing expeditions, a poignant example of the sacrifices she made in her relentless pursuit of justice.
5. Personal Life and Sacrifices
The personal and professional lives of Nasrin Mohammadi were intricately intertwined. In 1999, she entered into matrimony with Taghi Rahmani, a fellow pro-reform journalist who shared her passion for advocating for a better Iran. Tragically, their shared commitment to the cause came at a heavy price. Not long after their union, Taghi Rahmani found himself behind bars, a victim of the oppressive regime's crackdown on dissenting voices. His incarceration, however, did not deter him from continuing the struggle for justice.
In a heartbreaking turn of events, Taghi Rahmani was compelled to seek refuge in France in 2012, after enduring a total of 14 years of imprisonment for his activism. Nasrin Mohammadi, though separated from her husband by geography, remained steadfast in her determination to continue their shared human rights work within Iran's borders. Together, they navigated the tumultuous waters of activism, and their resilience was further exemplified by the birth of their twin children, a testament to their enduring love and unwavering commitment to a brighter future for their homeland. Positive Parenting Products on Amazon for their Creative Kids

Nasrin Sotoudeh Mohammadi's life journey is a tapestry woven with threads of courage, sacrifice, and unyielding dedication to the cause of human rights. Her story is a testament to the enduring spirit of individuals who, despite facing immense challenges, continue to champion justice, equality, and the betterment of society.
6. Journalism and Advocacy
Nasrin Mohammadi's journey as an activist and advocate for human rights took her down a path that traversed the world of journalism. She transitioned into a career as a journalist, contributing her voice to several reformist newspapers. Her writings served as a powerful instrument for highlighting the pressing issues facing Iranian society and advocating for meaningful change. Not content with just journalism, she took her activism a step further by authoring a book of political essays titled "The Reforms, the Strategy, and the Tactics." This literary endeavor showcased her intellectual prowess and her ability to dissect the complex political landscape of her homeland.
In 2003, Nasrin Mohammadi joined forces with the Defenders of Human Rights Center, an organization led by none other than Nobel Peace Prize laureate Shirin Ebadi. Her association with this esteemed institution marked a significant milestone in her career as a human rights advocate. As time progressed, she ascended to the position of vice president within the organization, solidifying her reputation as a leading voice for justice and human rights in Iran and beyond.
7. Narges Safie Mohammadi's Roles and Contributions
Narges Safie Mohammadi's identity transcends her mere status as a human rights activist. She has worn various hats over the years, cementing her place in history as a scientist and a key figure within the Defenders of Human Rights Center (DHRC). Notably, this organization is led by another Nobel Peace Prize laureate, Shirin Ebadi, underscoring the immense impact of their collective efforts in championing the cause of justice. Mohammadi's involvement in the DHRC underscores her multifaceted approach to activism, wherein she blends her scientific acumen with her fervent belief in human rights.
8. The Struggles and Sacrifices: Narges Safie Mohammadi's Battle for Justice
However, Mohammadi's path to the Nobel Peace Prize was not without its formidable challenges. In May 2016, she found herself sentenced to a staggering 16 years of imprisonment in Tehran. Her alleged crime? The establishment and operation of a human rights movement dedicated to advocating for the abolition of the death penalty, a mission rooted in her unwavering belief in the sanctity of human life. Even while confined behind prison walls, Mohammadi remained steadfast in her pursuit of justice, an act of courage and resilience that garnered global attention.
9. Narges Mohammadi: The Early Years and Initial Arrest
In the tumultuous landscape of Iran, Narges Mohammadi's journey into activism and advocacy for human rights began in 1998. At that time, she dared to voice her criticisms of the Iranian government, a courageous act that would come at a significant cost. In the grip of a regime intolerant of dissent, she found herself behind bars for a year. Her first taste of imprisonment served as a somber prelude to the relentless persecution she would endure in the years to come.
10. The Ongoing Struggle and Relentless Prosecution
Fast forward to April 2010, Narges Mohammadi's unwavering commitment to justice led her to be summoned to the formidable Islamic Revolutionary Court. Her alleged affiliation with the DHRC (Defenders of Human Rights Center) was a source of concern for the Iranian authorities. Although she was briefly granted temporary freedom upon posting a hefty bail of US$50,000, it was a fleeting respite. The long arm of repression snatched her back into captivity just days later, consigning her to the confines of Evin prison. Her time behind bars was marked by a sinister twist of fate, as her health deteriorated, manifesting as an epilepsy-like ailment that robbed her of control over her own muscles. After a month of torment, the authorities finally acquiesced to release her, permitting her to seek medical treatment, albeit briefly.
11. The Injustice Continues
The year 2011 brought no respite for Narges Mohammadi. Once again, she found herself in the crosshairs of the Iranian judicial system. This time, she faced a litany of charges, including "acting against national security," "membership in the DHRC," and "propaganda against the regime." A draconian sentence of 11 years' imprisonment was meted out, a judgment she only learned of through her legal counsel. Astonishingly, the court's 23-page verdict equated her human rights advocacy with seditious attempts to overthrow the regime. Despite a subsequent reduction of her sentence to six years by an appeals court, her ordeal persisted, and on April 26, 2012, she was once again arrested to begin serving her prison term.
12. International Outcry and Solidarity
The injustice inflicted upon Narges Mohammadi did not go unnoticed on the international stage. The British Foreign Office decried her sentence as a tragic example of the Iranian government's campaign to silence valiant human rights defenders. Amnesty International, recognizing her as a prisoner of conscience, issued impassioned calls for her immediate release. Reporters Without Borders, on the ninth anniversary of photographer Zahra Kazemi's death in Evin prison, sounded the alarm, highlighting the perilous situation faced by Mohammadi. An array of global lawmakers, including US Senator Mark Kirk and former Canadian Attorney General Irwin Cotler, joined forces in a collective plea for her freedom.
13. Freedom and Recurring Nightmare
Finally, on July 31, 2012, a glimmer of hope emerged as Narges Mohammadi was released from her prison cell. However, her respite was short-lived, as the specter of persecution continued to haunt her. In October 2014, she delivered a poignant speech at the gravesite of Sattar Beheshti, condemning the authorities' failure to address his tragic death in custody. This act of defiance, amplified by social media, drew the ire of the authorities, leading to her summons to Evin Prison Court in November 2014. A veil of uncertainty shrouded the charges against her.
14. Continued Struggles and Triumphs
The years rolled on, but Narges Mohammadi's fight for justice showed no signs of waning. In May 2015, she was once again apprehended, facing a litany of charges. The Revolutionary Court sentenced her to a decade in prison for "founding an illegal group" and levied additional penalties for alleged transgressions related to national security and propaganda. Her resolve remained unshaken, as she resorted to a hunger strike in January 2019, alongside British-Iranian citizen Nazanin Zaghari-Ratcliffe, to protest the denial of medical care. In the midst of a global pandemic, Mohammadi also grappled with the specter of COVID-19 in July 2020.
15. Recurring Imprisonment and Unyielding Defiance
On October 8, 2020, a glimmer of hope rekindled in the hearts of those who had followed her plight as Narges Mohammadi was released once again. However, the Iranian authorities were far from finished with her. In February 2021, she revealed through a video shared on social media that she had been summoned to court while still in prison, refusing to comply with their demands. In this chilling exposé, she recounted the sexual abuse and mistreatment she and other women endured behind prison walls. In March 2021, she penned a foreword for the Iran Human Rights Annual Report, decrying the ambiguous executions and the torment of detainees. Her concerns extended to recent arrests in Sistan Baluchistan and Kurdistan, fearing the specter of more executions. Motivation – Mind – Success – Thinking – Productivity – Happiness

16. Persistent Injustice and Unbroken Spirit
In May, another verdict was added to the litany of sentences against Narges Mohammadi. She was handed a two-and-a-half-year prison term, 80 lashes, and fines for alleged "spreading propaganda against the system." When summoned to serve this sentence in September, she stood her ground, considering the conviction fundamentally unjust. However, her resilience once again led to her arrest on November 16, 2021, during a memorial for Ebrahim Ketabdar, a victim of Iranian security forces during the 2019 nationwide protests.
17. The Unyielding Voice from Behind Bars
As the calendar turned to December 2022, a new chapter unfolded in Narges Mohammadi's unwavering struggle for justice. In a chilling report published by the BBC, she exposed the harrowing sexual and physical abuse suffered by detained women. In January 2023, she delivered a shocking report from her prison cell, cataloging the dire conditions faced by women in Evin Prison. She painstakingly documented the plight of 58 prisoners, highlighting their experiences of solitary confinement, torture, and unjust sentences. The numbers painted a grim picture, with 57 women collectively enduring 8350 days in solitary confinement, and 56 sentenced to a staggering 3300 months in total.
In the face of unrelenting persecution, Narges Mohammadi's indomitable spirit and unwavering commitment to justice continue to serve as an inspiration to advocates of human rights around the world. Her harrowing journey exemplifies the courage and resilience of those who dare to speak truth to power, even in the darkest of times.
18. A Trailblazer's Accolades: Narges Mohammadi's Remarkable Journey
Nasrin Sotoudeh, the Iranian human rights lawyer and women's rights activist has been the recipient of numerous prestigious awards throughout her illustrious career, a testament to her unwavering commitment to justice and equality. These accolades serve as milestones, marking her dedication to the pursuit of a better world.
2009: Alexander Langer Award – A Beacon of Peace
In 2009, Narges Mohammadi was honored with the Alexander Langer Award, a distinguished recognition named after the revered peace activist Alexander Langer. This esteemed award not only brought her international acclaim but also included a substantial honorarium of 10,000 euros. It was a momentous acknowledgment of her tireless efforts to champion the cause of peace, justice, and human rights.
2011: Per Anger Prize – A Symbol of Human Rights Advocacy
The year 2011 saw Narges Mohammadi receiving the Per Anger Prize, a prestigious accolade bestowed by the Swedish government in recognition of outstanding contributions to human rights. This prize underscored the global significance of her work and reaffirmed her dedication to defending the fundamental rights and dignity of individuals, irrespective of their nationality or background.
2016: Weimar Human Rights Award – Honoring Courage
In 2016, Narges Mohammadi's indomitable spirit and unwavering commitment to human rights earned her the Weimar Human Rights Award. This esteemed recognition highlighted her fearless advocacy for justice in a world that often turns a blind eye to the plight of the oppressed. It underscored her role as a beacon of hope for those whose voices have been silenced.
2018: Andrei Sakharov Prize – A Tribute to Courage
The American Physical Society bestowed the Andrei Sakharov Prize upon Narges Mohammadi in 2018, further solidifying her reputation as a fearless advocate for human rights. This award, named after the renowned Soviet dissident Andrei Sakharov, celebrated her courage in confronting oppression and her unwavering commitment to promoting freedom and justice.
2022: BBC's 100 Inspiring and Influential Women – A Global Acknowledgment
In 2022, Narges Mohammadi's impact reached far beyond borders as she was recognized by the BBC as one of the "100 inspiring and influential women." This acknowledgment transcended mere accolades, reflecting her ability to inspire positive change on a global scale.
2023: Olof Palme Prize – A Shared Triumph
In a significant moment in 2023, Narges Mohammadi was jointly awarded the Olof Palme Prize by the Swedish Olof Palme Foundation, alongside Marta Chumalo and Eren Keskin. This prestigious honor symbolizes their collective efforts in the fight for justice, human rights, and equality.
2023: UNESCO/Guillermo Cano World Press Freedom Prize – A Stand for Truth
Another remarkable achievement in 2023 was Narges Mohammadi's shared recognition of the UNESCO/Guillermo Cano World Press Freedom Prize, shared with Elaheh Mohammadi and Niloofar Hamedi. This award celebrated their unwavering commitment to upholding press freedom and their fearless pursuit of truth, even in the face of adversity. Fitness – Meditation – Diet – Weight Loss – Healthy Living – Yoga

19. A Noble Dedication: Shirin Ebadi's Tribute
In a touching gesture of solidarity and recognition, Nobel Peace laureate Shirin Ebadi dedicated her 2010 Felix Ermacora Human Rights Award to Narges Mohammadi. Ebadi, herself a tireless advocate for human rights, acknowledged Sotoudeh's extraordinary courage and dedication, stating, "This courageous woman deserves this award more than I do." Such tributes underscore the profound impact Narges Mohammadi's work has had on the global human rights community, cementing her legacy as a champion of justice and equality.
20. Narges Mohammadi: A Renowned Nobel Laureate
Narges Mohammadi, a remarkable and celebrated figure in the realm of human rights activism and advocacy, stands as a shining example of courage and determination in the face of adversity. Her illustrious career has been marked by unwavering commitment to the principles of justice and the relentless pursuit of a more equitable and humane world. Recognized globally for her outstanding contributions, Mohammadi's name is synonymous with resilience and the unyielding spirit of those who strive to make the world a better place.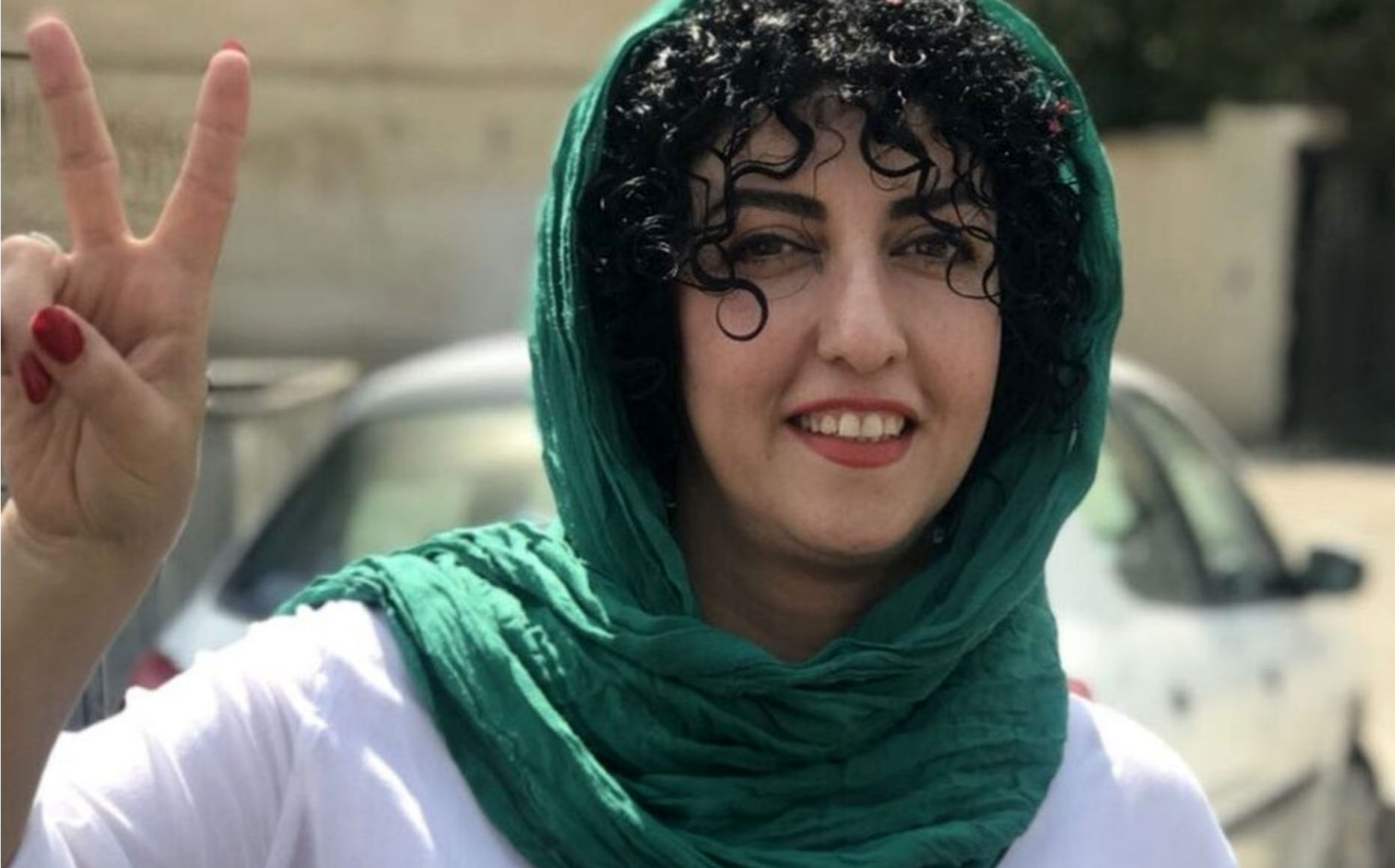 21. "White Torture: Inside Iran's Prisons for Women": A Harrowing Chronicle
In the annals of contemporary literature, "White Torture: Inside Iran's Prisons for Women," a compelling and deeply affecting work, etches an indelible mark. Penned with eloquent yet poignant prose, this literary masterpiece, published by OneWorld Publications in the year 2022, serves as a haunting exposé of the stark realities that women incarcerated in Iran's prisons endure. Mohammadi, the Nobel laureate, employs her literary prowess to shed light on the harrowing ordeals that countless women face within the confines of these oppressive institutions.
22. Unveiling the Horrors of "White Torture"
The term "White Torture" conveys an eerie paradox, juxtaposing innocence with brutality. Mohammadi, with her insightful narrative, unveils the sinister dimensions of this concept. It encapsulates the psychological torment, manipulation, and systematic degradation inflicted upon incarcerated women, designed not only to break their spirits but also to silence their voices of dissent. The chilling precision with which the author delves into the nuances of this form of cruelty paints a vivid and disconcerting picture that resonates deeply with readers.
23. A Pen Mightier Than the Sword: Mohammadi's Literary Impact
Narges Mohammadi's magnum opus transcends mere documentation; it is a clarion call for change, an impassioned plea for the restoration of human dignity, and an unflinching indictment of the oppressive machinery that seeks to stifle the cries of the voiceless. Her words serve as a testament to the enduring power of literature to shape public opinion, provoke discourse, and galvanize action. Through the vivid imagery and profound insights, she weaves into her narrative, Mohammadi ignites a spark of empathy in her readers, compelling them to confront the grave injustices perpetrated behind prison walls.
24. OneWorld Publications: A Beacon of Social Consciousness
The choice of OneWorld Publications as the platform for "White Torture: Inside Iran's Prisons for Women" underscores the alignment of values and missions between author and publisher. OneWorld Publications, renowned for its unwavering commitment to social justice, human rights, and the promotion of diverse voices, stands as an emblem of conscientious publishing. The decision to entrust this powerful narrative to the esteemed house reflects the publisher's dedication to amplifying narratives that expose the harsh realities of our world, thus fostering empathy and understanding among its readership.
25. The Sanctuary of Family in Narges Mohammadi's Life
In the heart of Narges Mohammadi's extraordinary journey lies her family, a sanctuary where love, unity, and the pursuit of justice converge harmoniously. Her parents, those steadfast beacons of support, were instrumental in nurturing her dreams and reinforcing her moral compass. Growing up amid a band of siblings, Narges gleaned the importance of unity and solidarity, values that would later underpin her activism. Their modest abode, filled with the mellifluous echoes of laughter and shared aspirations, served as a sacred space where her fervor for human rights and advocacy took root and flourished.
Within the comforting embrace of her family, Narges found not only unwavering love but also a profound sense of purpose. Her upbringing was a testament to the power of familial bonds in shaping one's character and mission in life. It was in this nurturing environment that the flame of her dedication to human rights was kindled, and it would go on to illuminate her path in the tumultuous world of activism. vital solutions on Amazon for your healthy life

26. Narges Mohammadi: A Mother's Unwavering Commitment
Narges Mohammadi's story is not just one of accolades and activism; it is also a touching narrative of maternal love and dedication. She is the devoted mother of two cherished children, Amir and Kiana, whose very existence serves as a poignant testament to her unwavering maternal love and commitment. Balancing the demanding responsibilities of social activism with the joys and challenges of motherhood, Narges exemplifies the art of multitasking with grace and determination.
Amir and Kiana, her two precious offspring, are not only the lights of her life but also the living embodiment of her dreams and aspirations. They serve as a poignant reminder of the world she envisions for them and the generations yet to come. Narges Mohammadi's commitment to creating a better world extends not only to her advocacy work but also to the legacy she hopes to leave behind for her beloved children, who will inherit the torch of justice she carries so fervently.
27. Colors of Creativity: Narges Mohammadi's Artistic Escape
Beyond her laurels and activism, Narges Mohammadi finds solace and self-expression in the realm of art. Her chosen hobby, painting, is a mesmerizing journey into the vibrant world of colors and creativity. Through the strokes of her brush, she captures the essence of her life experiences, translating her unique perspective into captivating visuals that she shares with the world, one canvas at a time.
Narges Mohammadi's artistic endeavors are more than a mere pastime; they are a reflection of her innermost thoughts and emotions, intricately woven into each stroke and hue. Her paintings serve as a window into her soul, offering a glimpse into the depths of her creativity and the complexity of her worldview. In the quiet moments she spends with her canvas, she not only rejuvenates her spirit but also invites others to see the world through her eyes, a world enriched by the kaleidoscope of her imagination.
28. Country Visited
Narges Mohammadi's global perspective extends far beyond the borders of her homeland, Iran. Her tireless efforts have taken her on an odyssey that spans continents and cultures, transporting her to numerous countries across the globe. In bustling European capitals, where the gleaming spires of centuries-old architecture punctuate the skyline, she has stood as a beacon of hope for the oppressed. In remote African villages, nestled amidst the untamed beauty of the continent, she has borne witness to the mosaic of human existence, from joyous celebrations to heart-wrenching struggles. With each step she's taken on foreign soil, she has not only broadened her horizons but has reaffirmed her unwavering commitment to the cause that beats in her heart like a drum, resonating with the rhythm of humanity itself.
29. Social Works
Narges Mohammadi's life is a vivid tableau, an unceasing testament to the unwavering pursuit of justice. With a fervor that burns brighter than the sun, she has dedicated every fiber of her existence to the sacred mission of amplifying the voices of the marginalized and oppressed. Her relentless work in advocating for prisoners' rights has been akin to a symphony of empathy and compassion, a melody that transcends borders and reverberates through the hallowed halls of international justice. Her tireless campaigns for women's equality have been the brushstrokes on a canvas of social change, painting a more equitable future for all. Her indomitable spirit has transformed her into a global luminary, a guiding star for those navigating the tumultuous waters of human rights advocacy.
30. Charity Works
But Narges Mohammadi's heart is not confined to the boundaries of activism alone; it extends its benevolent reach into the realm of charity. She has emerged as a beacon of hope and an embodiment of compassion. Her philanthropic endeavors, undertaken with unwavering dedication, have illuminated the path of those in dire need. With a heart as vast as the oceans and a spirit as boundless as the sky, she has championed causes that provide essential aid to the suffering, demonstrating that her dedication to justice extends far beyond the courtroom. Her hands have not only wielded the gavel of justice but have also extended in kindness to alleviate the pain and suffering of the most vulnerable members of society.
31. Achievements
Narges Mohammadi's list of achievements reads like an opulent tapestry woven with threads of resilience and determination. Her tireless work in co-founding the Defenders of Human Rights Center has been the cornerstone of her legacy, a bastion of hope for those who have been unjustly silenced. Her steadfast advocacy for women's rights has been the clarion call for gender equality, echoing through the corridors of power. Her unwavering commitment to the rule of law has been the bedrock upon which the edifice of justice stands tall. These extraordinary feats have not gone unnoticed, as she stands adorned with numerous accolades and honors, including the prestigious Nobel Peace Prize, a jewel in the crown of her remarkable journey. ArtPix Crystal Picture Professional Souvenir

32. Memorable Event
Among the chapters of Narges Mohammadi's life, one indelible event stands out with the resplendent glow of a supernova. It is the moment when the world watched in awe and admiration as she stood on the grand stage of the Nobel ceremony, bathed in the soft radiance of the Nobel Prize laureates. With eloquence that matched the grandeur of the occasion, she delivered a stirring speech that reverberated across continents. Her words, like a river of hope, flowed through the hearts of millions, leaving an indelible mark that transcended time and place. In that hallowed instant, she encapsulated the essence of her unwavering commitment to human rights, etching her name into the annals of history.
33. Future Goal
As the sun continues its inexorable journey across the sky, Narges Mohammadi's future goal remains steadfastly rooted in her unwavering passion for justice. She envisions a world not confined to mere dreams but transformed into a reality where the voices of the oppressed are not only heard but also acted upon. It is a world where the principles of equality and justice reign supreme, like mighty titans shaping the destiny of nations. In the tapestry of her vision, she sees the legacy of her advocacy extending far beyond her own lifetime, inspiring generations to come, like a torch passed from one valiant hand to the next, lighting the path toward a brighter, fairer future for all of humanity.